There are a growing number of infectious diseases that are negatively impacting wildlife populations. White-nose syndrome is devastating bats in North America, snake fungal disease is causing disfiguring malformations in several US states, and chronic wasting disease is killing cervids. For amphibians, chytrid fungi and ranaviruses have been primary etiologic agents in widespread and localized die-offs.
The increasing emergence of infectious diseases is caused by a myriad of factors – generally linked to human activities. In particular, the global movement of infected animals (via unclean international trade) is resulting in spillover of novel pathogens to naïve populations on continents. Pathogens also are evolving enhance virulence in captive populations, which can spillover to the wild.
Humans also affect disease processes by introducing environmental stressors and changing habitat conditions that affect host contact rates. Our goal is to identify the causes of disease emergence and devise disease management strategies that can be used by practitioners to control (or eradicate) outbreaks in wild and captive amphibian populations.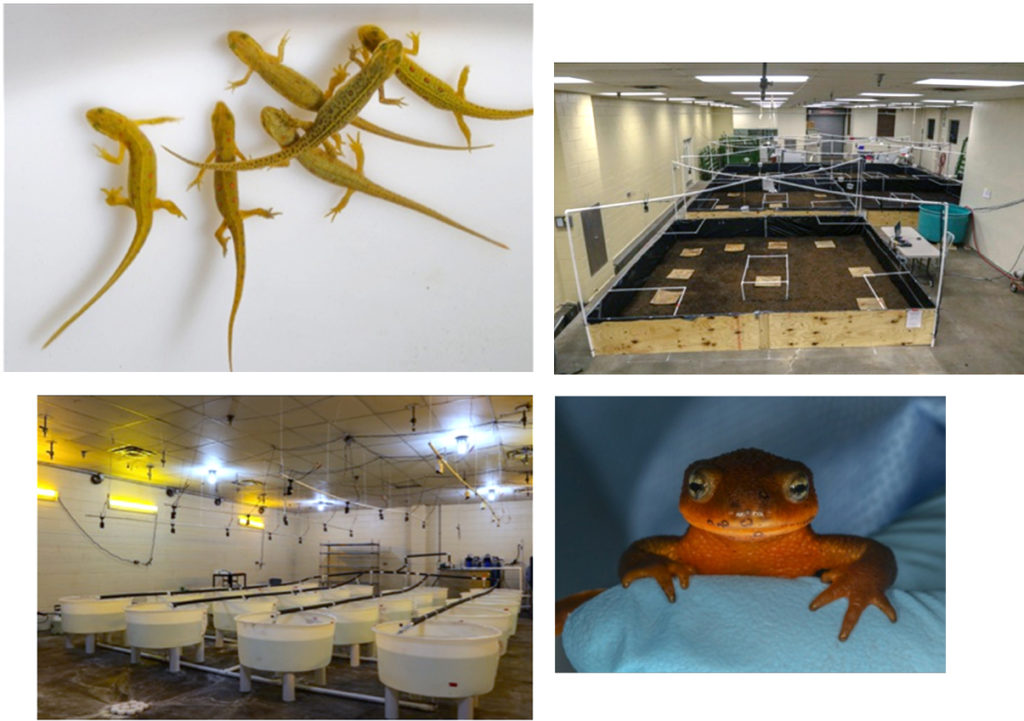 ---
Research Projects
Current Projects
National Science Foundation, 2021-2025. Resilience Institute Bridging Biological Training and Research (RIBBiTR).
University of Tennessee One Health Initiative. 2021–2022. Socioeconomic epidemiology of disease risk in wildlife trade networks.

US Fish and Wildlife Service, 2019–2022. Competitive State Wildlife Grant (administered by Tennessee Wildlife Resources Agency). The threat of Batrachochytrium salamandrivorans (Bsal) to species of greatest conservation need and proactive development of disease management strategies.

National Science Foundation, 2018–2022. Division of Environmental Biology, Ecology and Evolution of Infectious Diseases Program. Transmission pathways and immunological factors driving invasion potential of the recently discovered pathogen, Batrachochytrium salamandrivorans.
Recently Completed Projects
Georgia Department of Natural Resources (administered by University of Florida), 2018–2020. Surveillance for chimeric ranavirus in southern Georgia.

BAND Foundation, Inc. (administered by the Association of Fish and Wildlife Agencies). 2017–2019. Bsal susceptibility trials for species of conservation concern.
---
Publications
Book Chapters
Islam R. M., Gray M. J., Peace A. 2021. Identifying the dominant transmission pathway in a multi-stage infection model of the emerging fungal pathogen Batrachochytrium salamandrivorans on the eastern newt. Pages 193-216 in M. I. Teboh-Ewungkem, G. A. Ngwa (eds.), Infectious Diseases and Our Planet, Mathematics of Planet Earth 7, New York: Springer.

Wilber, M. Q., Johnson, P. T. J. and Briggs, C. J. 2019. 'When chytrid fungus invades: integrating theory and data to understand disease-induced amphibian declines', in Wilson, K., Fenton, A., and Tompkins, D. M. (eds) Wildlife Disease Ecology: Linking Theory to Data and Application. Cambridge, United Kingdom: Cambridge University Press.

Gray, M. J. and V. G. Chinchar. 2015. Introduction: History and future of ranaviruses. Pages 1–8 in M. J. Gray and V. G. Chinchar, editors. Ranaviruses: lethal pathogens of ectothermic vertebrates. Springer, New York.

Brunner, J. L., A. Storfer, M. J. Gray, and J. T. Hoverman. 2015. Ranavirus ecology and evolution: from epidemiology to extinction. Pages 71–104 in M. J. Gray and V. G. Chinchar, editors. Ranaviruses: lethal pathogens of ectothermic vertebrates. Springer, New York.

Gray, M. J., J. L. Brunner, J. E. Earl, and E. Ariel. 2015. Design and analysis of ranavirus studies: surveillance and assessing risk. Pages 209–240 in M. J. Gray and V. G. Chinchar, editors. Ranaviruses: lethal pathogens of ectothermic vertebrates. Springer, New York.

Green, D. E., M. J. Gray, and D. L. Miller. 2009. Disease monitoring and biosecurity. Pages 481–505 in: C. K. Dodd, editor. Amphibian Ecology and Conservation: A Handbook of Techniques. Oxford University Press, Oxford, UK.
Amphibian Disease and Conservation Papers
---
Partner Organizations and Research